PEARL 5W20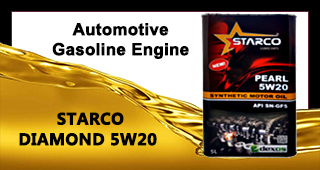 STARCO Pearl is Fully Synthetic premium multi-grade oil for Gasoline Engines with and without Turbo charging . It meets service requirements of the API Engine Service Classification SN ,GF5-DEXOS1
1L , 4L , 5L
RACING 5W30


STARCO Racing is Fully Synthetic premium multi-grade oil for Gasoline Engines with and without Turbo charging . It meets service requirements of the API Engine Service Classification SN ,GF5-DEXOS1
1L , 4L , 5L
SUPER 10W30


STARCO Super is Fully Synthetic premium multi-grade oil for Gasoline Engines with and without Turbo charging . It meets service requirements of the API Engine Service Classification SN ,GF5-DEXOS1
1L , 4L , 5L
Super 10W40


STARCO Super is Fully Synthetic premium multi-grade oil for Gasoline Engines with and without Turbo charging . It meets service requirements of the API Engine Service Classification SN ,GF5-DEXOS1
1L , 4L , 5L
FORMULA 20W50


STARCO FORMULA is premium high-quality multi-grade oil for Gasoline Engines with and without Turbo charging. It meets service requirements of the API Engine Service Classification SL
1L , 4L , 5L
ENERGY 15W40


STARCO Energy is high quality multi-grade diesel engine oil . designed for use in naturally aspirated and turbo-charged diesel engines and It meets service requirements of the API Engine Service Classification CF-4
1L , 4L , 5L , 20L , 25L , 200L
S5 20W50


STARCO S5 is high quality multi-grade diesel engine oil . designed for use in naturally aspirated and turbo-charged diesel engines and It meets service requirements of the API Engine Service Classification CF-4
1L , 4L , 5L , 20L , 25L , 200L
S3 HD50


STARCO S3 is high quality monograde diesel engine oil . designed for use in naturally aspirated and turbo-charged diesel engines and It meets service requirements of the API Engine Service Classification CF-4
1L , 4L , 5L , 20L , 25L , 200L
S4 HD70


STARCO S4 is a premium high performance monograde engine oil . designed for all normally diesel engines . can work at all condition especially at high temperatures and It meets service requirements of the API Engine Service Classification CF-4
1L , 4L , 5L , 20L , 25L , 200L

FLUSHING OIL


specifically engineered for purge of internal combustion engine lubrication systems without the need for tear down. The product is manufactured using highly refined base stocks with hydrocracking technology possessing high stability and high viscosity index

1 LITER PACKAGED


STARCO 1 liter package used for gasoline and engine oil




SERENA ISO68


premium quality anti-wear hydraulic oils made from highly refined base oils. They contain high quality additives which improve ageing resistance and oxidation stability. They guarantee excellent protection against wear and corrosion and provide good water separation properties. 20L , 25L , 200L

205 LITER DRUM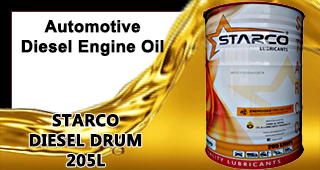 STARCO 205 Liter DRUM used for Gasoline,Diesel engine oils and the industrial oils

25 LITER JERRY CAN


STARCO 25 Liter Jerry can used for Gasoline,Diesel engine oils and the industrial oils

25 LITER Plastic JERRY CAN


STARCO 25 Liter Plastic Jerry can used for Gasoline,Diesel engine oils and the industrial oils

STARCO OIL SMOKE STOP


STARCO Oil Smoke Stop reduces the oil consumption of gasoline and diesel engines via the piston rings and valve guides. It prevents blue smoke and oil mist and acts against the loss in viscosity in motor oils. Oil Smoke Stop increases the compression ratio and reduces engine noise.

Two&Four Stroke Engine Oil


STARCO provides a full line of premium synthetic 2 and 4 stroke oils that provide outstanding protection and performance for recreational and work equipment.



FUEL System Cleaner


Maintains the cleanliness of the fuel system , Helps Restore Original Power to Entire Fuel System ,Safe for Catalytic Converters and Oxygen Sensors .